It's Time to Throw Away the Key and Upgrade Your Security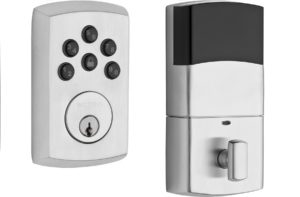 Upgrading to a smart home security system isn't about reinventing the wheel. All the essential hallmarks of a security system are there: locks, alarms, and surveillance cameras. What a smart solution does is take each of these components and make them more efficient and easier to manage. In this blog, we'll focus on perhaps the most basic security measure in your home: locks. Through smart access control, it's easier to protect your home whether you're in Franklin Lakes, New Jersey or on the other side of the globe.
Benefits of a Smart Home Security System
Integrated Control
By linking your security system to your home automation, you have access to all your locks from the same dedicated touchpad you use to control your climate, entertainment and more. Imagine if when the doorbell rings you could use your TV remote to see who's at the door and open it from the couch at the press of a button. That's exactly what you get with a Crestron smart security solution. Using the same touchpad, you can also check to see if all doors are locked throughout the day.
Another perk of integrated control is that you can have your smart locks work hand-in-hand with other technology. Make sure your home is fully secured at the end of the night with a "Good Night" scene that locks all doors, turns off lights and arms your system. You can have a similar "Away" scene when you leave the house that helps ensure no door is left unlocked while you're away.
Mobile App
All the benefits of integrated control are available whether you're home or on the go through Crestron's mobile app. If your kids left the house after you did, pull up your app at work to ensure all doors were locked. If they weren't, you could lock them remotely.
With access to your home security on your smartphone, you never have to leave your keys under the mat or hidden in a pot. Get a notification when someone is at your front door and let them in remotely at the touch of a button. Receive a notification when they leave the house so you can lock the door behind them and reactivate your security system.
Security Codes
If you want to keep better track of who's coming in and out of your home, you can use personalized codes. Each person has a unique number so you can know exactly who's opening what door. This can be a great tool when keeping track of kids or contractors. You can see when your contractor arrived and when he left. You can even receive a notification if their code is not used by a scheduled time.
Most importantly, access codes can be revoked at the press of a button. No need to find a new hiding spot for your key every time you end a relationship with a housekeeper or contractor. As soon as you don't want someone to have access to your home, you just remove their code from the system.
Change how you interact with your security system at the most basic level by making your locks smarter. Contact Lunar AV for a comprehensive access control solution for your home.