Lunar AV Residential Services
Make your home make your life easier
Lunar AV is more than your everyday home automation company. Lunar AV takes a unique approach to creating your technology architecture package by starting with the basics and building up. If you are interested in learning about Home Automation Companies serving New Jersey and New York, Lunar AV is the answer!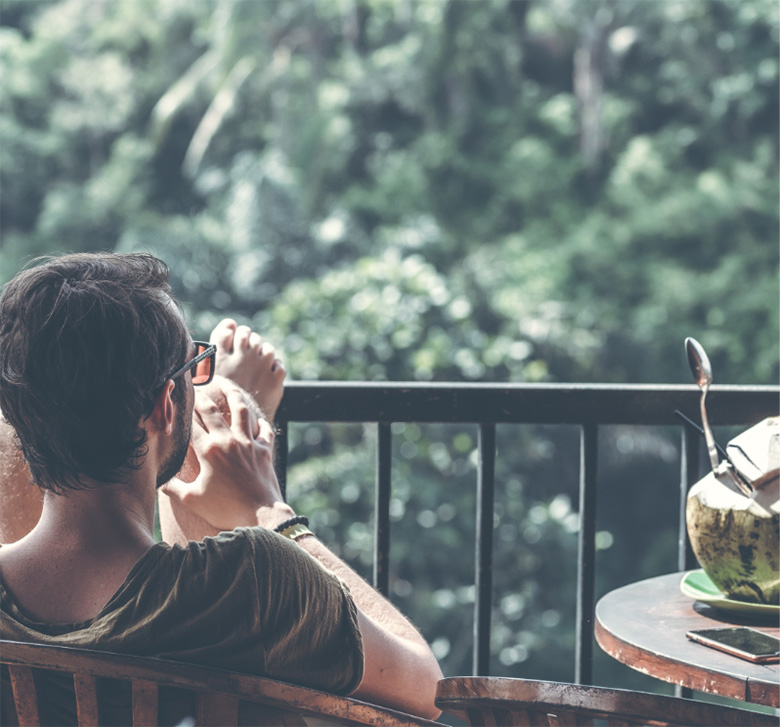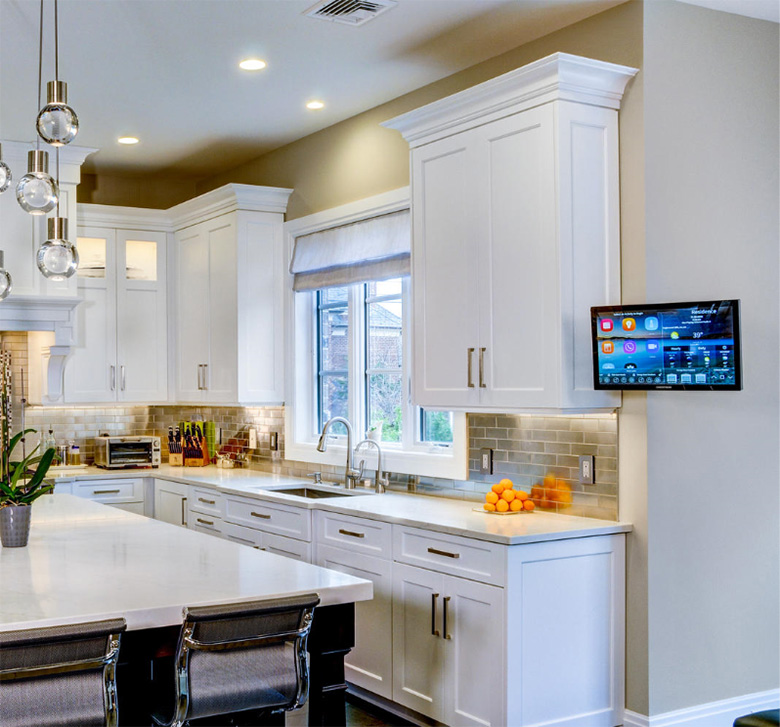 Video Distribution
Can you imagine being able to watch your favorite movie, TV show or home video on any TV in your home? Not only can we make this possible, we can do so with only a single cable to each display device! Utilizing Crestron's Digital Media System and intuitive programming to create a comprehensive home AV solution, we can send HD video, audio, control and Ethernet from multiple video sources, to multiple displays at the same time or in different instances.
Apple TV, TiVo, Blu-ray, Cable and other video sources can all be available at the touch of a button, at any time you want them. Each system is specifically designed to match the video display with the content to be watched, to allow the highest resolution video and robust audio available in multiple locations. The systems we create for our clients reduce the amount of cable boxes, satellite receivers and other video devices normally required by conventional standards, as even one cable box can be available for viewing on multiple displays. Your content will always be waiting for you, anywhere, at any time!
We can also craft commercial audio/video solutions to make it easy to play different content in the televisions throughout your bar or restaurant. Centralize control so your employees can quickly, and efficiently, cater to your clients' request to change a channel or simply adjust the volume.
Multi-Room Audio
Your music where you want it… everywhere! Internet Radio, iPods, Media Servers and CD's can be played in any room of your home at anytime: through recessed, outdoor, wireless speakers, or even invisible speakers.
With a home AV system, you can select "Party Mode" on one of the touch screens, and either play the same music source throughout the home, or something different in a particular room- with all of your music displayed and controlled on one of our intuitive, easy to use, touch screens or remote control interfaces. All of our systems are tailored to meet each of our clients' individual needs, so contact us today and let our team design a system that is specifically attuned for the way you listen to music.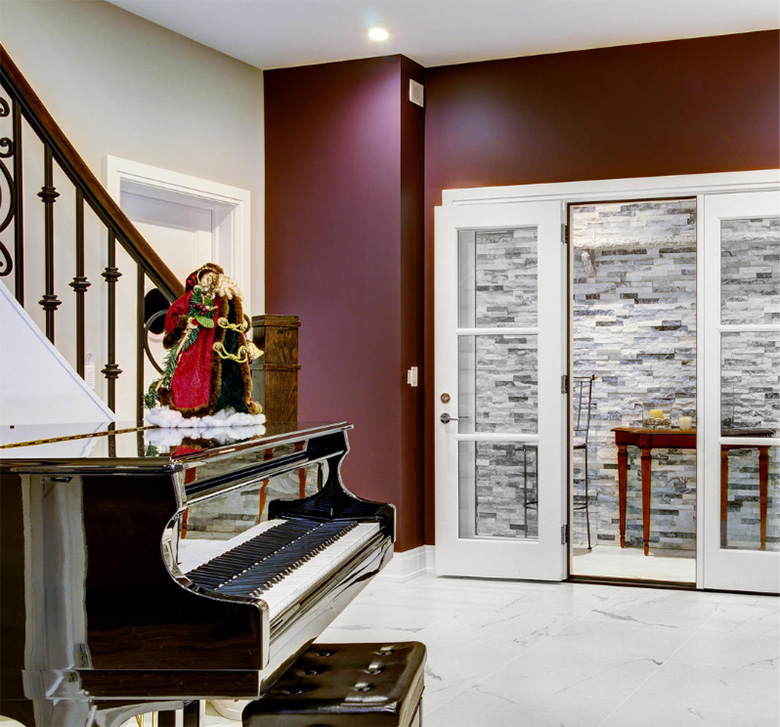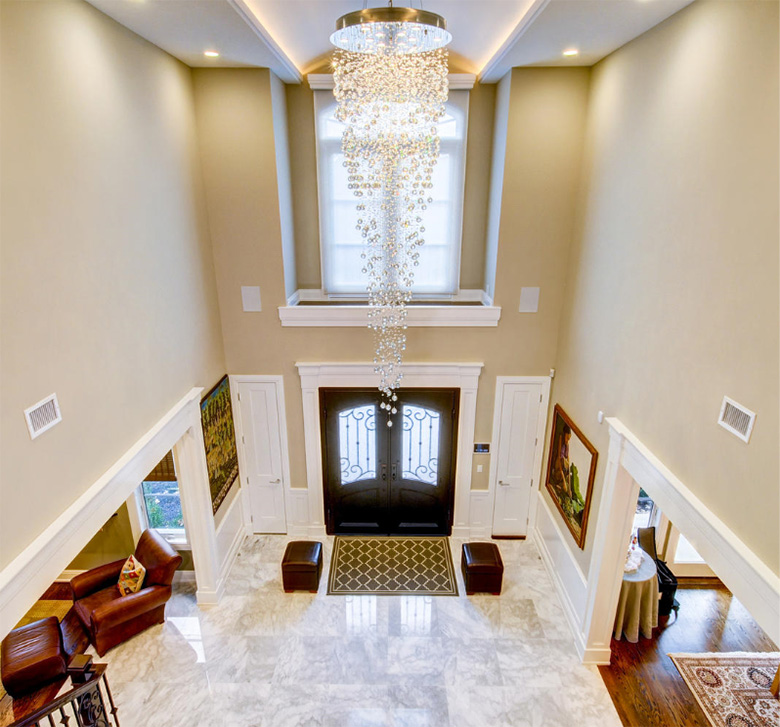 Lighting Control
The simplicity and elegance of today's lighting control systems unleash the possibilities for complete, end-user customization to create the perfect lighting environment for all aspects of every day life. Creating scenes with different dimming properties, timer schedules and single button press control of multiple lighted rooms has never been easier and can be done directly from any touch screen or mobile device. Lunar AV can help guide the way to creating the perfect lighting control system for your home or business. Give us a call and start the process today!
Climate Control
Lunar AV installed climate control systems help manage the environment at home or at work with little to no effort. Set the mode and let the system learn how the space is used and adjust accordingly. Want to make a temperature or schedule adjustment from another location? No problem, open up the mobile control system app and adjust away remotely from anywhere internet access is available.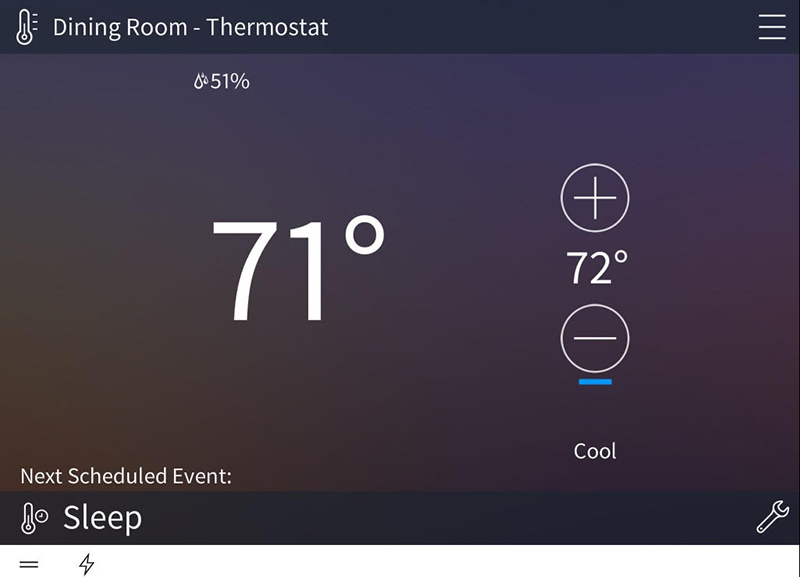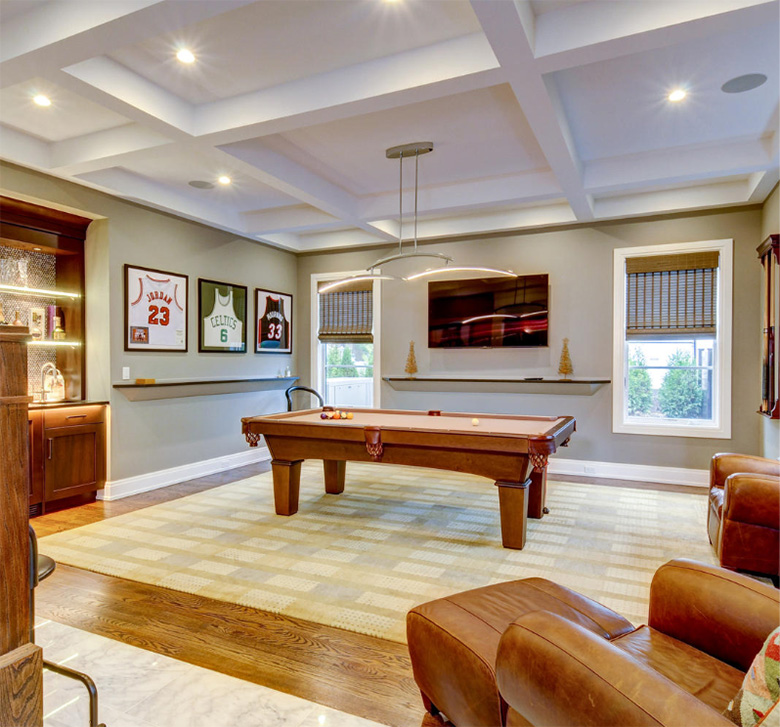 Motorized Shades
Motorized Shades and Drapery Tracks will help add convenience, comfort and privacy to your home in a quiet and elegant form which can be controlled from any user interface, remote control or keypad. Lunar AV specializes in the design and installation of various shade and drapery track applications which will protect the contents within the space from the sun, help to lower utility costs and add value to your home.
Security Systems
There is only one thing that comes to mind when we hear the word "Security" and that is "Protection". There are many ways to protect what matters most within home security systems solutions and they include burglar protection, fire alarm systems, surveillance and intercoms. At Lunar AV, we can design and implement a system based site survey of your home that assesses and identifies areas of risk to ensure complete protection. We use all of today's latest products and technology to allow immediate notification through services such as central station monitoring, smart phone notification, dedicated home networks, cloud based mobile control as well as integration into most automation systems.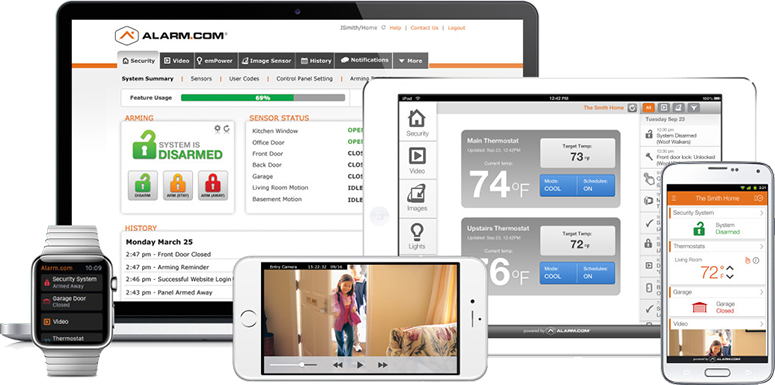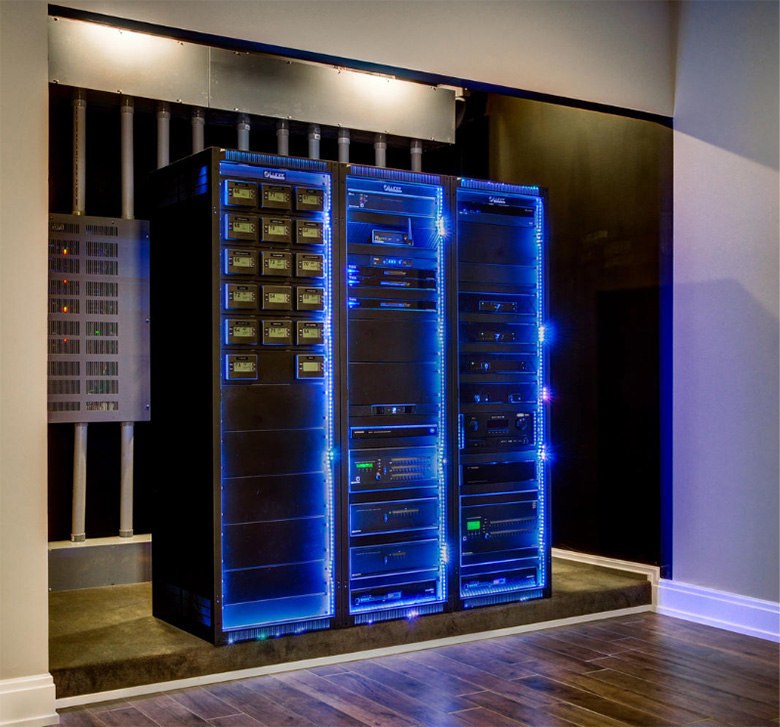 Enterprise Networking
Today's electronic devices are becoming more network and internet dependent each day, which puts even more focus on the communication, wiring, and hardware within a home or business than ever before. At Lunar AV, we will help design a wired and wireless computer network that will allow all of your electronic equipment to perform to their highest potential.
Through high performance cable and robust networking hardware, your network infrastructure will always meet and exceed today's ultra demanding standards.
Dedicated Home Theater
Theaters can come in all shapes, sizes, configurations and budgets. A home theater could be a dedicated viewing room in your home with a fixed projection screen, high definition projector, floor standing speakers, seating and acoustical treatments. It could also be be a multi-purpose room that that doubles as a family room by day and a theater by night with a drop down screen and projector that may be hidden at any time. It could be a surround sound system with a flat panel TV on the wall, a sound bar and recessed speakers.
Whatever your preference, our design team can create a system that will be tailored to your needs and budget using only the best products that suit your application, providing a home AV experience that can be enjoyed by our New Jersey clients for many years to come. Contact us today for more details on how a Lunar AV installed theater can bring your room to life!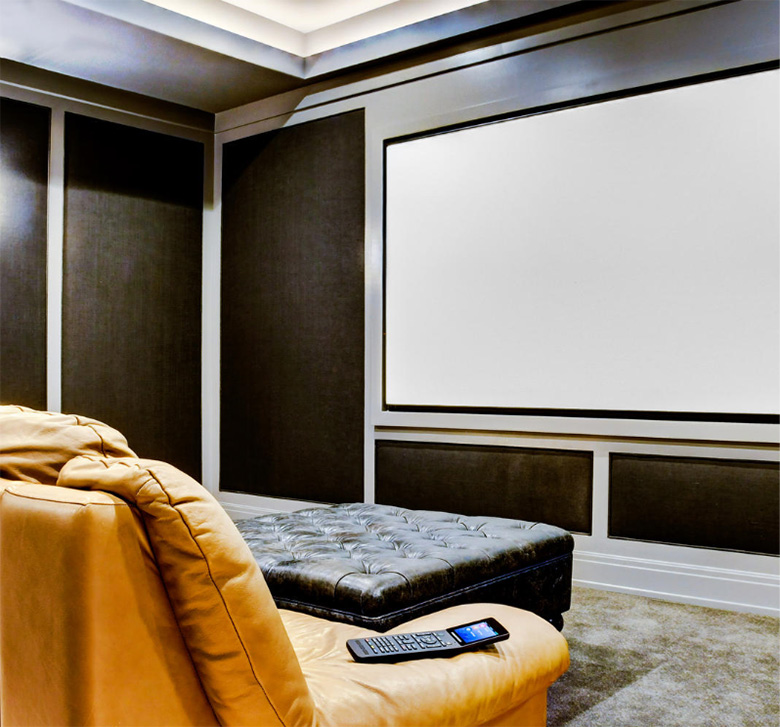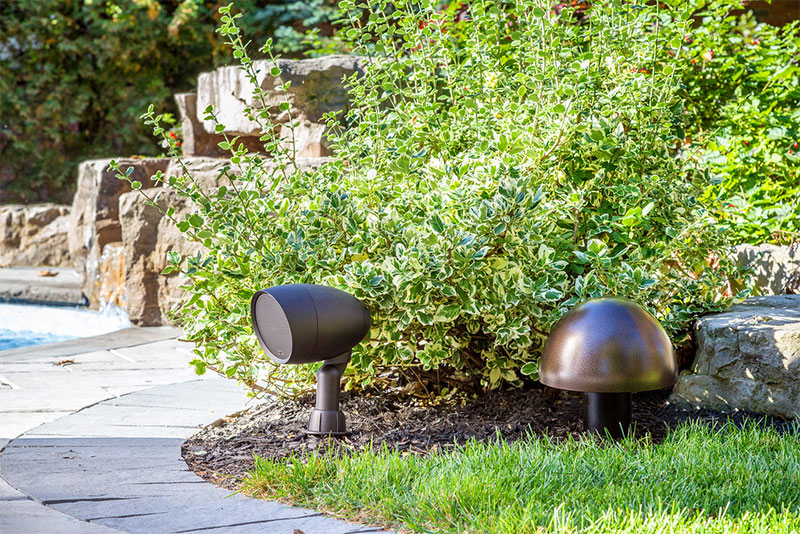 Outdoor Living
Outdoor living has become one of the most popular features of a modern home and Lunar AV is at the forefront of providing solutions for outdoor integration. We design systems specific to each project, using only the best outdoor audio, video and lighting equipment available.
Home Automation
Convenient and efficient control of lights, temperature, music, video, shades, security and much more are all possible through detailed system design, creative in-house programming and detailed project planning! As an authorized Crestron Dealer, we put control of all aspects of your home right at your fingertips through our home automation solutions. Whether it be through a touch panel, hand held remote, or mobile device, you can utilize our custom built interface from within your home or even from a remote location. We are proud to offer Crestron products to help provide the comfort, convenience and security you can expect from a Lunar AV Integrated System.