Highlight Your Outdoor Spaces With the Right Solution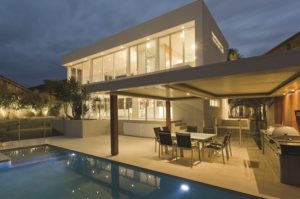 Wondering if your landscape lighting could benefit from smart home lighting control? Outdoor lighting boosts your home's security, enhances your architectural features and makes it easier to entertain guests. It also tends to cover a much larger space than your indoor lighting, which can make it harder to manage. With the summer months approaching, it's the perfect time to upgrade your home's landscape lighting in Franklin Lakes (or anywhere else in Northern New Jersey). Below are some unique ways you can manage your lights with smart lighting control:
Schedules
Schedules are a very popular way to manage landscape lighting. They help you ensure lights are on when it gets dark and turned off as soon as the sun rises. You can create schedules in your home lighting control system that match up with the season's typical sunrise and sunset times. This way it's easy to keep your home illuminated at night – to boost both its security and aesthetics—while reducing energy waste by turning lights off when they're not needed.
Sensors
You can also keep track of your lights with sensors. Your landscape lighting system will typically include two types: motion sensors and photo sensors. The main application for motion sensors is on walkways. Keep your walkway lights off or dimmed and have them light up as someone walks through to guide the way to your front door or car.
You can also use photo sensors to make sure you're not wasting energy by having fixtures on when natural light is available. These sensors balance out the amount of light in an area. Once there's enough natural light, your system will dim down to balance out the load.
Centralized Control
There are also many benefits to having control centralized on an intuitive user interface. When it comes to landscape lighting, it can be hard to remember which switches correspond to what. With a smart home lighting control solution, all your fixtures can be managed from a touchpad, smartphone or tablet. Each of them are clearly delineated so you can shut them off, dim them or change their color.
Scenes
You can also create smart scenes within your home lighting control system. These scenes let you control multiple lights at once to match specific activities. For example, a "Cookout" scene turns up the lights in the patio and around the grill while dimming those not being used in other outdoor areas.
We can prepare a solution custom-made to fit your home and the needs of your family. Contact us to upgrade your landscape lighting with smart control.