Protect Your Investment with a Proactive Solution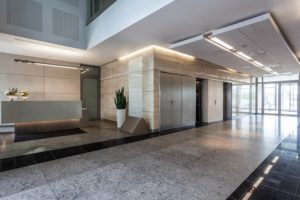 No matter what kind of business you run –from a corporate office in Mahwah to a retail store in Upper Saddle River—keeping your property secure needs to be a top priority. Our smart business security solutions offer systems that can anticipate threats and keep you informed at all times. When it comes to protecting your business, it takes more than an alarm and a few cameras scattered throughout the property. Read on to see some of the ways you can strengthen your security for added peace of mind.
Access Control
Tracking who enters and leaves your property is fundamental to your business security. You can do this by upgrading your access control system. Instead of using traditional keys, use access cards or codes. Every member of your team is linked to their respective card or code, so you can monitor when they used it and when they left. You can also limit employee access, so they can't enter the office after hours or go into restricted areas.
Remote Monitoring
How can you get peace of mind that your business is running smoothly, and safely, when you're not there? Eliminate doubts with a security solution that lets you access your system remotely. From an app on your smartphone, you can look in on your surveillance, lock doors and set your alarm. You can also check in on your thermostat or see who's entered or left the building.
You don't have to check your phone constantly to stay informed. Set up your system to receive notifications if your alarm goes off, if someone enters the building, or if there's a water leak. By being alerted quickly, you can better react to emergencies and reduce damages.
Smart Surveillance
Enhancing your surveillance system is another fundamental step in strengthening your business security. Add high-definition cameras in strategic locations to better monitor who is leaving and entering your property. Receive notifications on your phone with an accompanying image or video snapshot when someone enters your business.
Trigger-based recording can help you get valuable footage as well. Install cameras that begin recording when they sense movement. All of your footage is easy to access from your smartphone or from the same tablet you use to control your lighting, climate or audio/video systems. All surveillance footage is encrypted to protect your business' privacy.
Integrated Security
You shouldn't limit your security features to alarms, locks, and cameras. An integrated business security system brings together all your technology to help secure your property. You can get your technology working together by incorporating smart lighting control into your automated responses. Remember the motion-detection cameras we mentioned? When the motion sensors go off, have the lights in that area turn on to get clearer images in your surveillance footage.
Whether you want to upgrade your current system or set up a smart security solution in your new business, Lunar Audio Video can design a custom solution to fit your space. Contact us to set up a consultation.