Residential High Performance Audio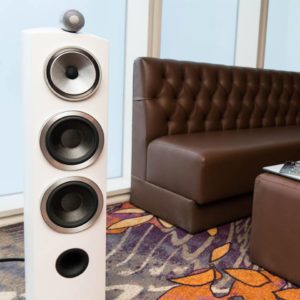 Whether you want to have the full surround sound, movie theater experience in your home theater, or just play your favorite music throughout your Morris County, NJ home, there are a variety of audio solutions available to any homeowner. If you are a big fan of TV and movies or if you enjoy playing music from your TV, you may choose to have a Leon©  custom sound bar system installed for a balanced, high quality surround sound environment.  The sound bar can be custom built to aesthetically and seamlessly blend in with your TV and the sound will fill up a room of any shape or size, creating the perfect setting for entertaining friends and family of all ages.
For the audiophiles who dream of hearing their favorite song in the best possible quality, there are many high performance audio solutions available such as Bowers and Wilkins© high performance audio systems. A high performance, 2-channel audio system is basically a simple stereo system, with sound coming from two locations, creating a "sweet spot" in the middle, which many believe provides the best listening experience. Bowers & Wilkins can give you a studio-quality sound in your home, emanating from sleek, modern looking, freestanding speakers, or speakers that are virtually invisible after being installed in your ceiling or walls.
Residential Outdoor Audio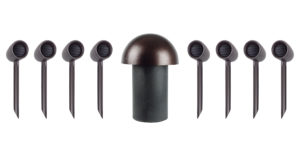 Your home audio system doesn't have to stop at the back door. Many speaker systems are now designed specifically to be rugged for outdoor use.  Sonance ©  is one of our partners that provides a great solution for outdoor audio. The Sonnaray© system includes 1 subwoofer and 8 speakers which are designed to camouflage among foliage of landscaping beds and withstand extreme weather conditions. This system provides a great sound that can cover up to 2000 square feet!
Commercial Audio Solutions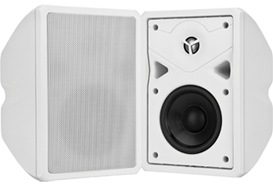 A reception area is incomplete without music for clients to enjoy while waiting. A simple audio system can mean the difference between a pleasant wait and an awkward silence. If you prefer a TV in your reception area, it is still beneficial to have speakers to evenly project the sound so that people in each area can hear. Even in an office that doesn't receive clients, music makes for happier employees and productivity. A widely used solution amongst many types of offices, are in ceiling speakers. Crestron© has high performing in ceiling speakers which have paintable, zero-bezel grilles, allowing them to blend right into the ceiling. These speakers provide an impressive sound, come in different sizes, and are surprisingly affordable. Crestron also offers more powerful in ceiling systems that are perfect for clubs, retail spaces, and restaurants.
For restaurants with outdoor seating, golf courses, public pools, and any other outdoor applications, much like the residential options, there are many different solutions to bring the music outside. Speakers can be discreetly mounted to a building's exterior, staked into the ground or you can add stylish speakers to the landscaping. Another benefit of commercial sound systems is that the speakers can be integrated with an intercom system for employees to interact or to make announcements to customers.
Whether you're at home or at work there is an audio solution suited to your wants and needs, call Lunar Audio Video today to see what we can design for you!