Outdoor living has become one of the most popular features of a modern home or business and Lunar Audio Video is at the forefront of providing solutions for outdoor integration. We design systems specific to each project, using only the best outdoor audio, video, and lighting equipment available. Our goal is to create a year-round entertainment experience that can be enjoyed for years to come.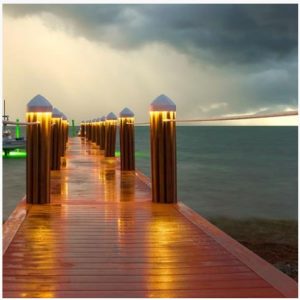 Outdoor Lighting
There are many functions for outdoor lighting. Someone may highlight a focal point in a garden or an architectural feature of their house, provide illumination options for security purposes, or it may be as simple as allowing for outdoor entertainment after dark; setting a nice mood for your family and company in the evening. For all outdoor lighting applications we use fixtures designed to withstand any type of weather condition, require minimal maintenance, provide thousands of hours of illumination and are backed by a limited lifetime warranty. Different types of fixtures include: architectural fixtures, lights that blend into the foliage of landscaping beds, stylish path lights, and up lights for trees and walls.
Outdoor Audio
Every party or gathering is enhanced by adding the element of music. Some people may have some type of audio system inside their home but many neglect to think of the possibilities of bringing that music outside into the yard. Your friends and family will appreciate the music emanating around your barbeque, patio or pool but will wonder where that high-quality sound is coming from. Many of our landscape speakers blend right into the foliage making them invisible to the inexperienced eye. Other outdoor speaker options are made to be looked at, such as rock speakers or speakers installed on a home or structure. Whether you're relaxing by the pool, gardening or entertaining, music can make the outdoor experience even more enjoyable.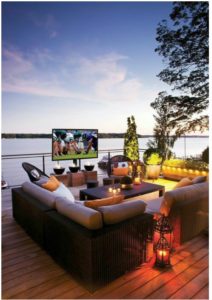 Outdoor Video
It is amazing how far televisions have progressed over the years, and now that some of our vendors have perfected the weatherproof TV, we are proud to offer this option for outdoor entertainment all year round. We use the best TVs on the market, resistant to any weather condition and temperatures from -24 to 122 degrees Fahrenheit allowing for a permanent worry-free installation in most outdoor environments. You can integrate an outdoor TV with weatherproof speakers for an even more immersing entertainment experience!
Contact Lunar Audio Video today to design your outdoor experience
call 888-884-9455!